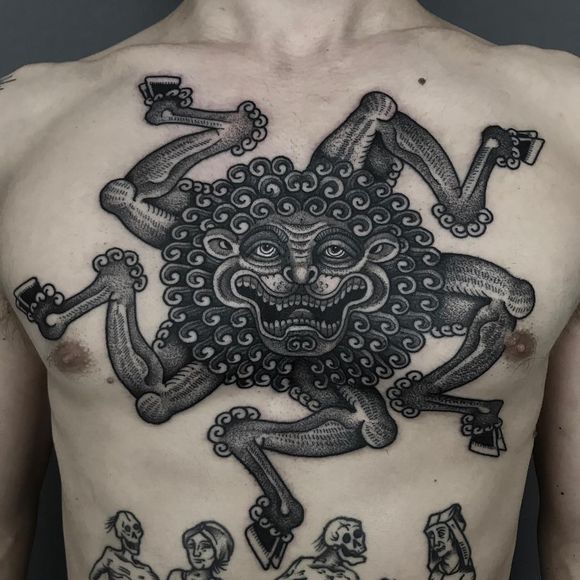 Chest Tattoos: The Definitive Inspiration Guide
Get inspiration for your chest tattoos with this definitive guide on the most popular styles, motifs and the best chest tattoo ideas!
Summary
Chest tattoos for men can span many styles and designs; the best bet is to choose a concept you really care about and find an artist whose style you really love.
For everyone getting a sternum piece is a big commitment, and the same certainly goes for chest tattoos for women. Take your time finding a concept, creating a design, and choosing your artist. You'll be happy you put in the extra effort.
The 10 most popular chest tattoo designs and motifs include lion chest tattoos, eagle chest tattoos, rose chest tattoos and more…
Traditional chest tattoos and Japanese chest tattoos are only some of the most popular chest tattoo styles.
Do chest tattoos hurt? Yes. They definitely do. But we promise the pain is totally worth it.
Our favorite celebrity chest tattoos include Ed Sheeran's lion, Mark Hunt's realist samurai skulls and J.J. Watt's cute matching brother tattoos.
Getting chest tattoos can be a true commitment. It's a large area of your body that you want to make sure is covered with the best possible ideas and designs that suit your personal style. This inspiration guide will cover everything from chest tattoos for men and women, as well as the most popular design concepts, and even the top celebrity chest pieces out there. We've even answered some of your questions regarding chest and sternum tattoos like how bad does it really hurt, and how to best take care of your piece.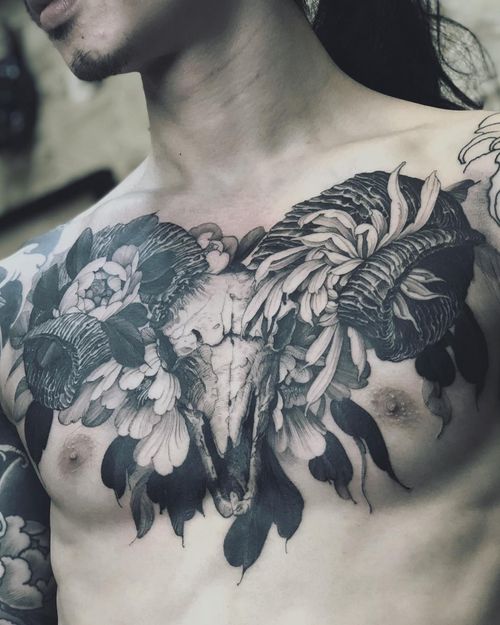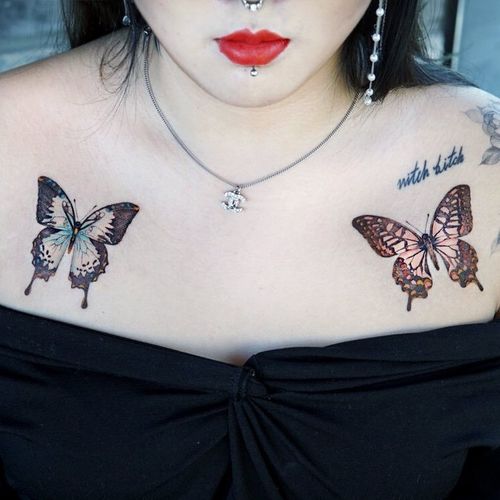 Chest Tattoos for Men
It's a never ending trend...which...technically means it's not a trend at all. Chest tattoos are always one of the most searched and sought after placements. And most people put a whole lotta time into choosing what will eventually cover one of the most obvious places for a tattoo. Since the chest is such a big space, it leaves a lot of room for creative details and designs. Chest tattoos for men can span many different styles and concepts, but it's always important to make sure to choose something you honestly believe you'll be happy with for a long time. You can always get tattoo removal, but why not do the research and find cool chest tattoos that really resonate with you for the get go?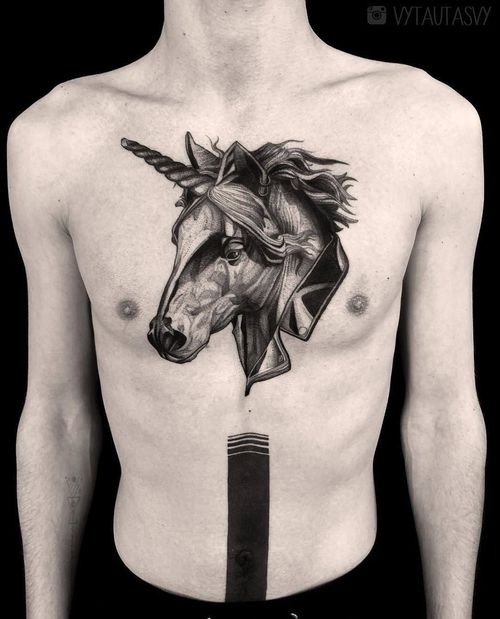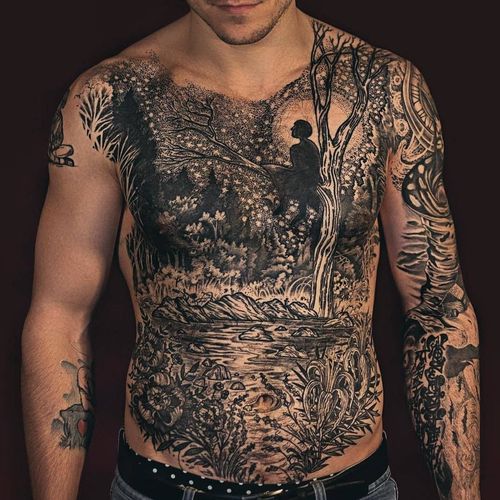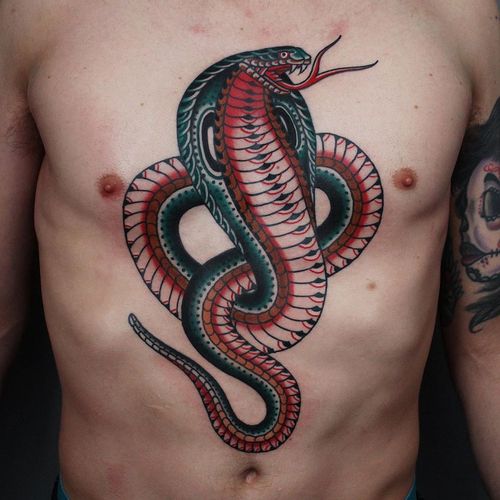 Chest tattoos for guys can include anything that you really care about or are inspired by. In this guide, we have many examples that span esoteric Blackwork etchings, graceful animals leaping through the air, or centered designs such as Neo Traditional ships at sea. Remember, too, that you don't necessarily have to cover the whole area in one go. Some people opt to get a pec tattoo that focuses on one side, before moving to the other. This also gives you a good way to get more than one idea on your chest. A small chest tattoo for men doesn't mean that it will remain all by itself; often smaller pieces turn into a larger bodysuit over time. This is especially true of people who collect Traditional tattoos.
We also often get asked for inspiration regarding chest tattoos for black men. The only thing you and your artist will have to keep in mind is how dark the pigment of your skin is. Don't let an artist talk you out of getting a design or concept you want; instead just remember that thicker lines with bigger space between them will work better for skin that is rich in melanin. It may mean that your design may need to be slightly streamlined or simply made bigger so that you can see all the details! Make sure to work with a tattooist who is well-versed in working with your skin tone, and that you feel comfortable with. Trust is key for any new ink, including chest tattoos for men.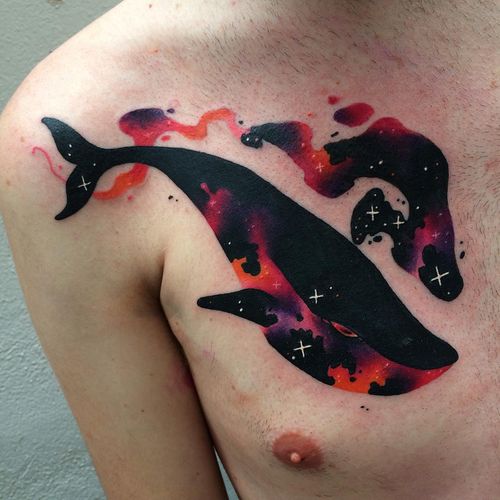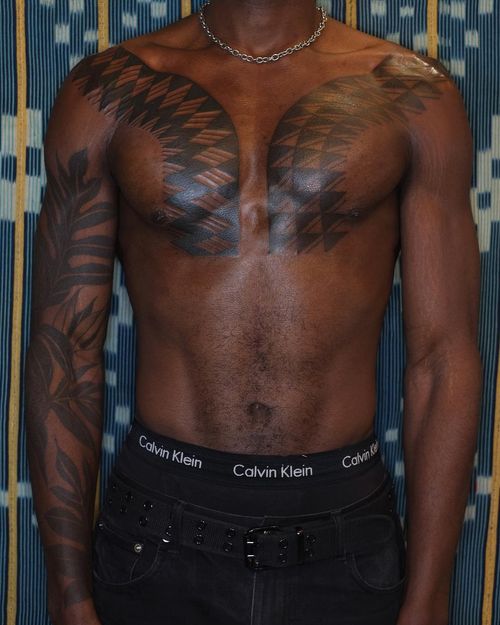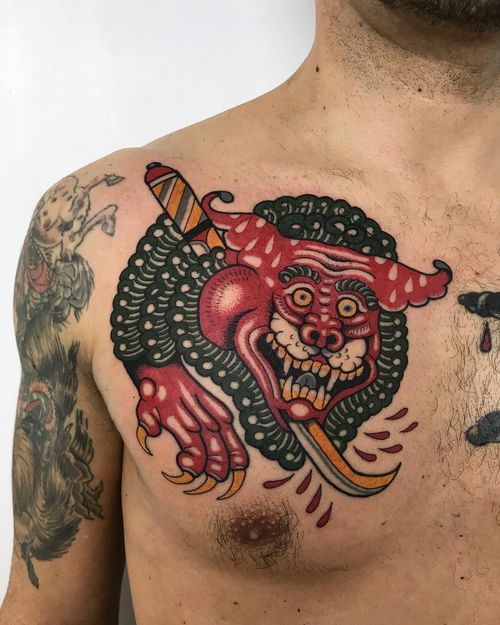 Chest Tattoos For Women
Chest tattoos for women are something that have gained a lot of respect of the last few years. Ladies with a love for ink are no longer thought of as low class or trashy just for getting a chest piece, and that's awesome because we really love them. It's a true statement tattoo, and one that you should think about for a long time before you jump right in. Of course, our best advice is to always get something that you really care about. Whether it's beautiful florals, birds flying high, sacred geometry or tribals patterns, it's really all up to you. Chest tattoos for girls are commonly thought of as being cute or pretty....but that doesn't necessarily have to be so. It's really about what you like, what your personal style is all about. If you're not quite sure what that is, that's totally okay. Honestly, it's a great idea to go get some temporary tattoos or tattoo markers and play around! Maybe you want a super dark illustrative skull surrounded by ivy, or maybe you want a phoenix with his feathers all aflame. If you have a few ideas, your best bet is to find an artist you really love and bounce your concepts off of them. You've got time. Don't feel rushed.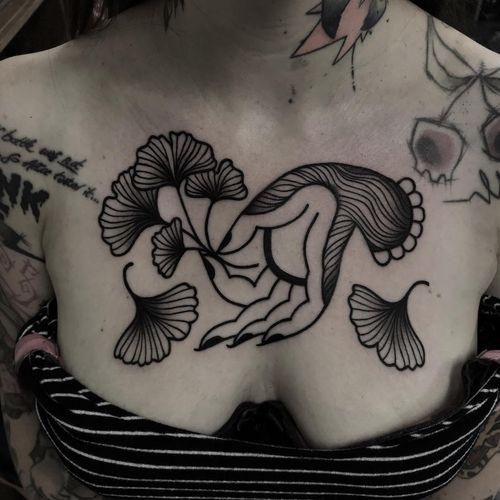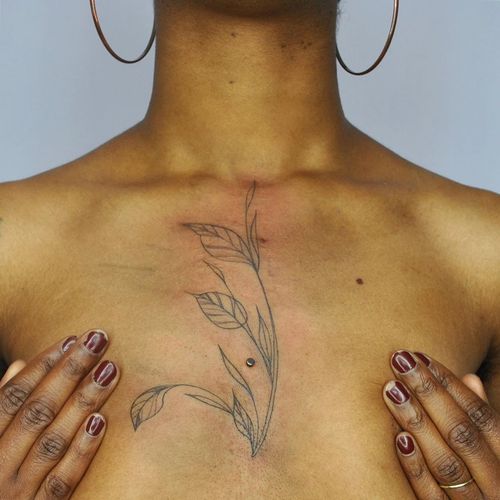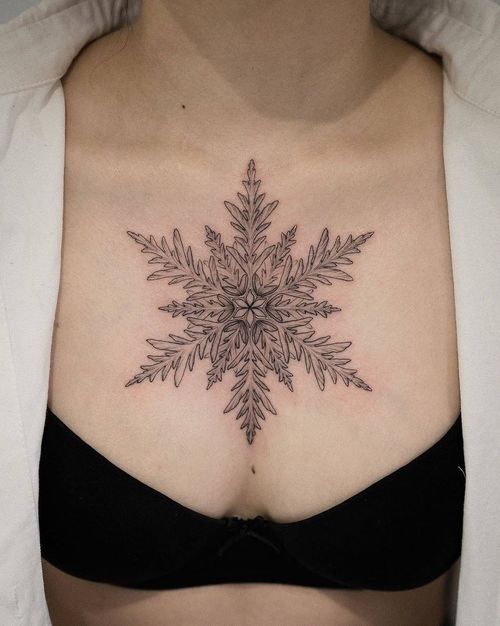 Most large pieces, like a sternum tattoo, are done over time anyway...think a couple weeks or months depending on your appointment schedule, and the artists availability. It's awesome to get a chest piece done in a day, but it may not always be the right way to go! This especially comes into play when an artist is designing a chest tattoo that involves mastectomy scar cover ups...you want to make sure that not only is your artist the best of the best, but that they have, hopefully, some experience in doing scar cover ups. If not, that's totally okay! As long as you trust your artist, and you work together to make sure that your experience is exactly as you want it to be. We want all female chest tattoos to be as beautiful as you are. They should enhance your natural good looks, not take away from it.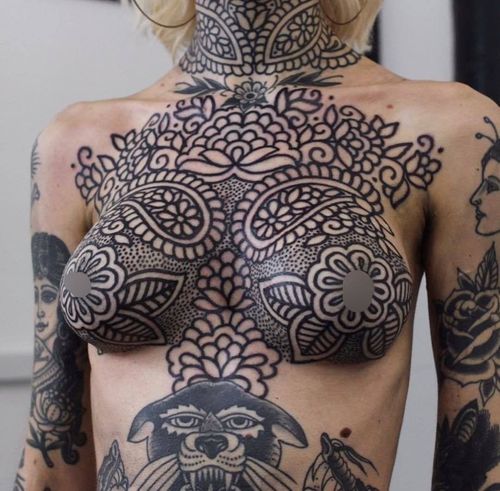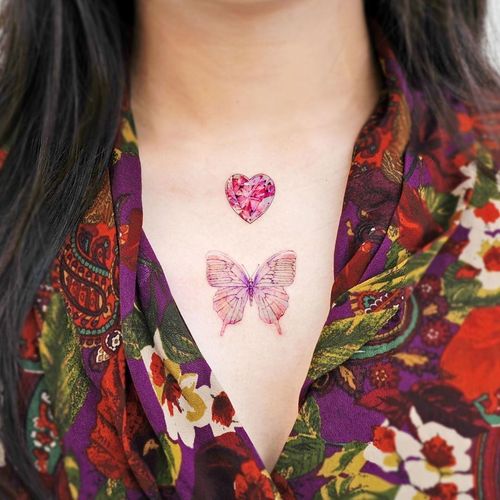 The 10 Most Popular Chest Tattoo Designs and Motifs
Dragon chest tattoos
One of the most powerful symbols of Asian cultures, a dragon chest tattoo is a strong statement and iconic within Japanese tattooing. If you do get a dragon chest tattoo, it definitely doesn't have to be in any particular style...but that can help with the meaning behind it if you care about that. Dragons symbolize wisdom and strength but can also be metaphors for good luck and prosperity.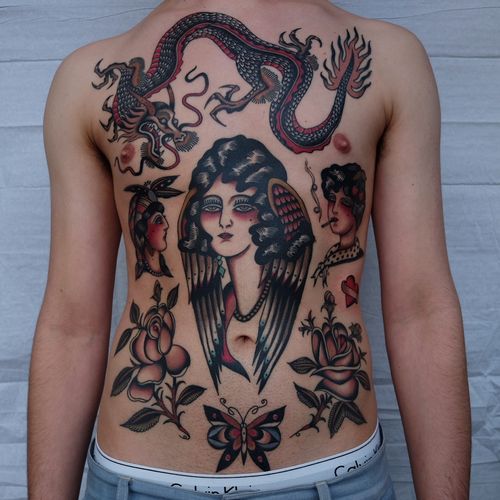 See more dragon chest tattoo designs
Lion chest tattoo
Another animal that is all about power, a lion chest tattoo is certainly a symbol of regal pride. One of the most revered animals on the planet, a lion, whether resting serenely or roaring ferociously, can imbue the wearer with strength and confidence. A lion chest tattoo can also represent courage and leadership....a perfect symbol to wear on your chest.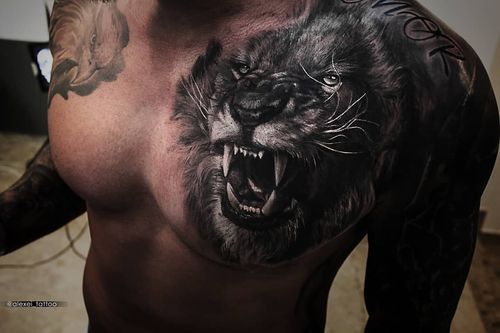 See more lion chest tattoo designs
Wolf chest tattoo
Wolves are sometimes misunderstood creatures, but they are often held in high regard for their majestic and poignant presence. A wolf chest tattoo can be representative of a person's love of nature, hiking, or animals, but this image can also be a symbol of power. Native Americans have thought of wolves as spirit animals, or totems, that can guide you and help you persevere through hard times. Wolf chest tattoos can also be metaphors for loyalty and courage.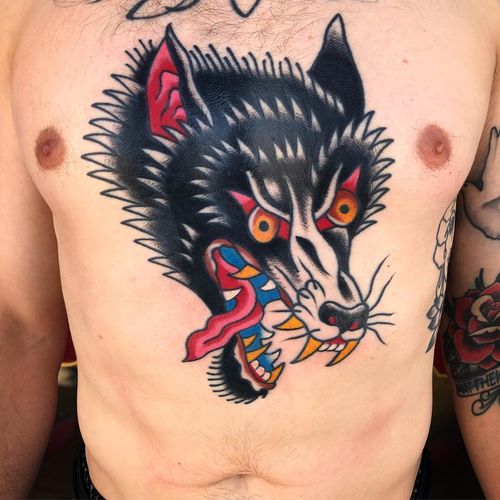 See more wolf chest tattoo designs
Tiger chest tattoo
Like lions, a tiger chest tattoo can be a symbol of power, royalty and strength. But you may also figure that the personality of a tiger is a lot different than a lion. Tigers are graceful loners that hunt at night, slipping through the jungle to find their prey. A tiger chest tattoo can mean that you are wild and aggressive, or you simply could love the aesthetic look of this lovely animal.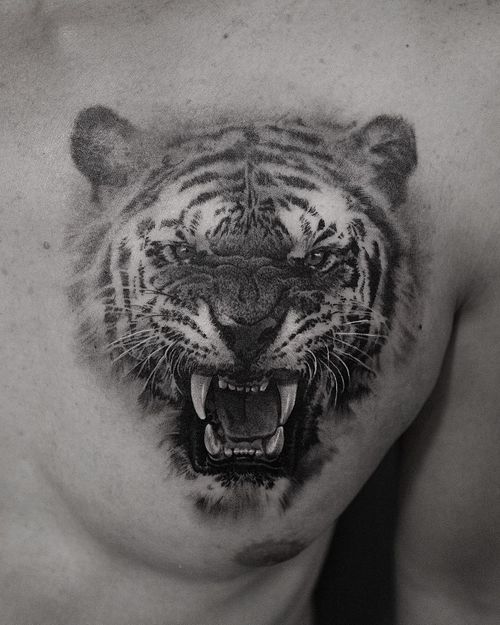 See more tiger chest tattoo designs
Owl chest tattoo
The silent hunter of the hunt, with eyes of gold. Owl chest tattoos are inspiring for so many people who are taken with the fantasy of this particular animal. Owls are known, of course, for their wisdom and cunning, but they are also related to the moon and night. Owl chest tattoos are perfect to blend with magical symbols or tokens, such as candles or clocks, but you can always keep it all natural and surround your bird with a beautiful forest.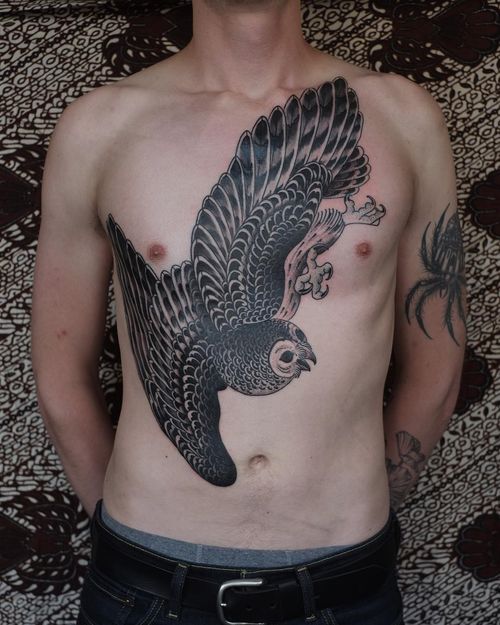 See more owl chest tattoo designs
Wings chest tattoo
Wings give our hearts a chance to fly, or so they say. But most people who get wings chest tattoos are definitely inspired by those ideas of flight and heart. It's all up to you to find the wings of your choice...they could be bird wings, angel wings, or wings from a mythical creature. The wonderful thing about wings chest tattoos is that they leave you a lot of room for interpretation. You can also add on a lot of details to make your piece truly personal.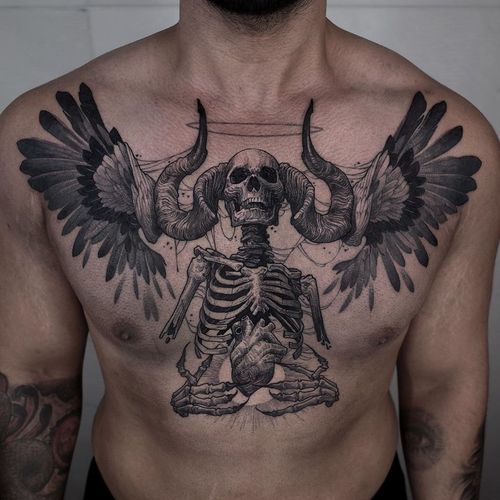 See more wings chest tattoo designs
Eagle chest tattoo
A famous icon of American Traditional tattooing, an eagle chest tattoo represents freedom and courage. Many sailors became enamored with this design due to the symbology around it. This specific tattoo embodies the power of the human spirit; an eagle chest tattoo can be a metaphor for man's ability to fly high above the dangers and difficulties that may come into his path during this lifetime.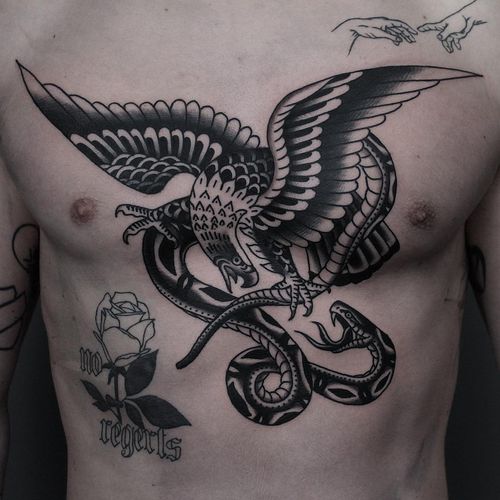 See more eagle chest tattoo designs
Angel chest tattoo
An important design motif for any Chicano, Black and Grey or Realism tattoo, an angel chest tattoo is perfect for those who are inspired by religious iconography or has a strong connection to beliefs in the divine. For some angels are our guides through this lifetime, they protect us and keep us safe, while for others they are our direct connection to God. We can speak to him through them. Whatever your beliefs may be, an angel chest tattoo can be a beautiful and meaningful piece to get.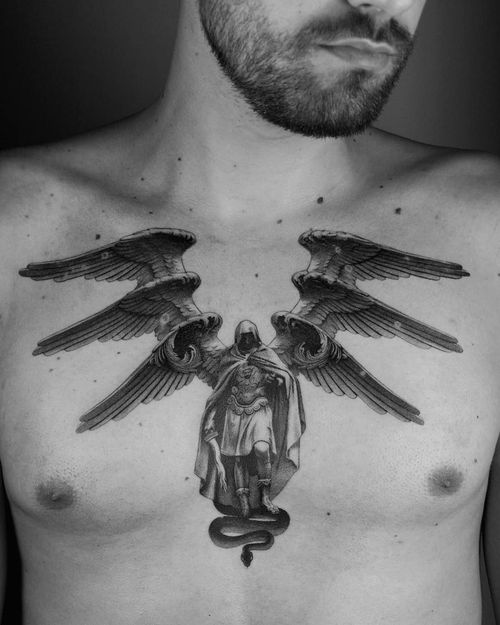 See more angel chest tattoo designs
Rose chest tattoo
Deeply romantic and poetic, a rose chest tattoo can speak to your inner emotional qualities as a human being. You may already be aware, but different colors and types of roses can symbolize different concepts, and it's up to you to choose what would be represent you. Within the Tarot, the rose means balance. But within more mainstream pop culture, a rose chest tattoo will always mean enduring love and passion.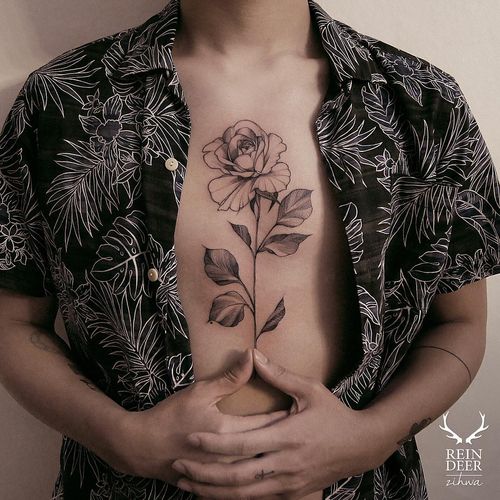 See more rose chest tattoo designs
Name tattoos on chest
Like we've previously stated, when getting chest tattoos you should always get something that is closest to your heart. And that may not always be a thing or an object...it may easily be a person. This is when getting name tattoos on chest placement may be the best thing! If this is the case for you, and you want to get the name of a person you love, we always suggest going to someone who concentrates on lettering. Those are the artists who will name tattoos on chests like nobody else; we promise you won't be disappointed.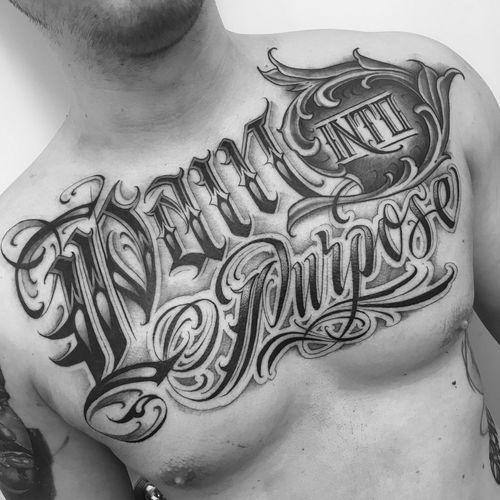 The Most Popular Chest Tattoo Styles
Traditional chest tattoo
Some of the best chest tattoos have been created using the tried and true style of American Trad. A Traditional chest tattoo is exactly what is sounds like: classic and iconic. This particular aesthetic makes for some pretty perfect chest pieces, especially due to the fact that you can either make a large design to cover the area or bring together a bunch of smaller designs for your chest tattoo. It completely depends on your personal aesthetic, but it may be best to go with smaller pieces to create a larger design, especially if you have so many ideas you just can't choose one. Pin-ups, daggers, roses, and eagles can all be part of a cohesive concept for your Traditional chest tattoo. It's pretty easy since the style of Trad is clean, bold, and quintessential. You'll know already if this is the choice for you!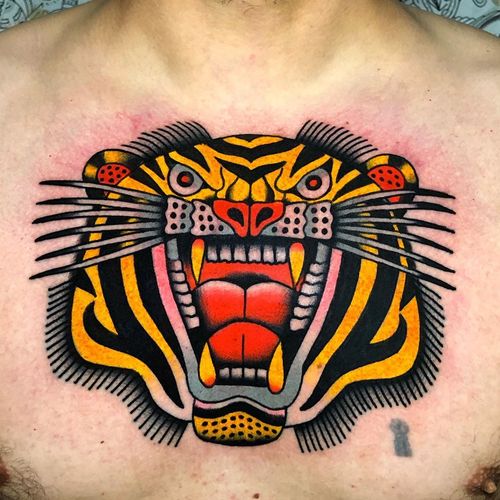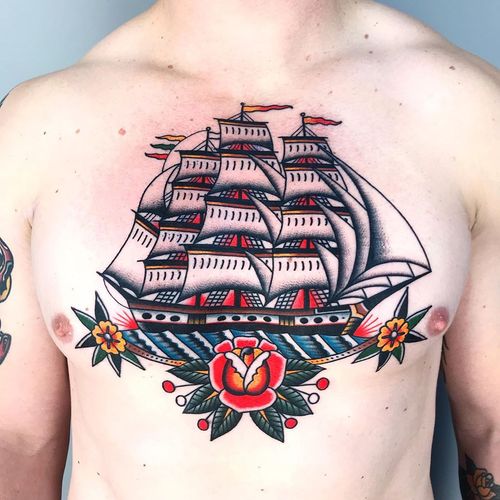 Japanese chest tattoo
Irezumi has created some of the most inspiring and influential designs within the tattoo community. A Japanese chest tattoo gives a nod to one of the most highly revered cultures and movements within tattooing. The design motifs within this style are also almost numberless; most of these concepts also come with a powerful amount of meaning and symbolism. You've probably already seen people who have started with a Japanese chest tattoo, only to complete a bodysuit in the same genre. We've also seen many incredible half chest tattoos within the Japanese tradition, which usually go from a half sleeve on an arm to cover part of the chest. From dragons to koi, samurai and geisha, a person simply can't go wrong with a Japanese chest tattoo, but, of course, do your research! You'll want to pay respect to this beautiful and ancient culture with your piece.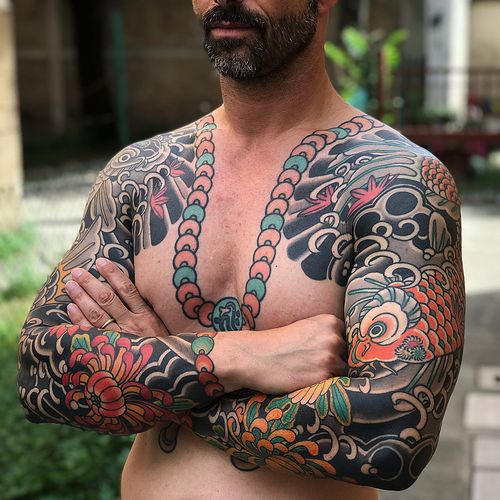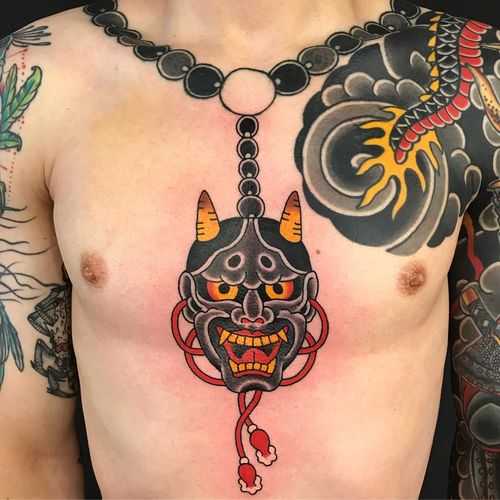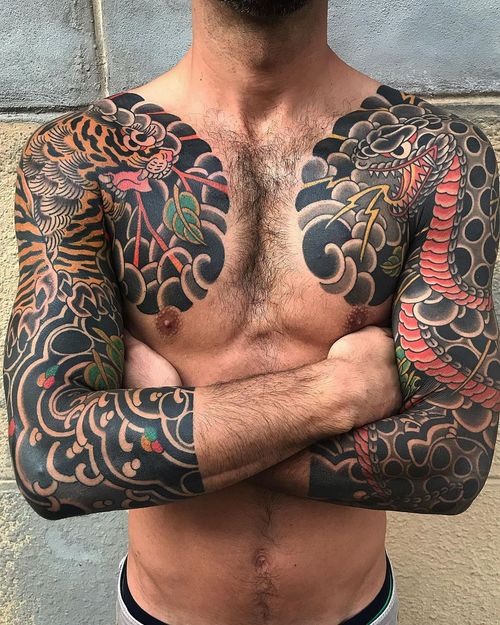 Tribal chest tattoo
Though you may already be aware, a tribal chest tattoo has some deep ancestral and cultural roots around the globe. One of the most popular and respected styles within tribal tattooing are Polynesian tattoos. Not simply beautiful patterns or design, traditionally a Polynesian tattoo symbolizes a rite of passage for Polynesian men, and can also tell the story of their heritage, community, accomplishments and more. Many Blackwork tattooers are either continuing the ancient Polynesian tradition, or are paying tribute with their own perspective through folk and tribal-esque patterns. A tribal chest tattoo may be a good choice for you if you like the stark simplicity and power of black ink against the skin in various shapes, dots, lines or patterns. Just as with all other styles, it's best to seek out a tattooer that focuses on this particular style if it's the one you'd like to dedicate your chest piece to!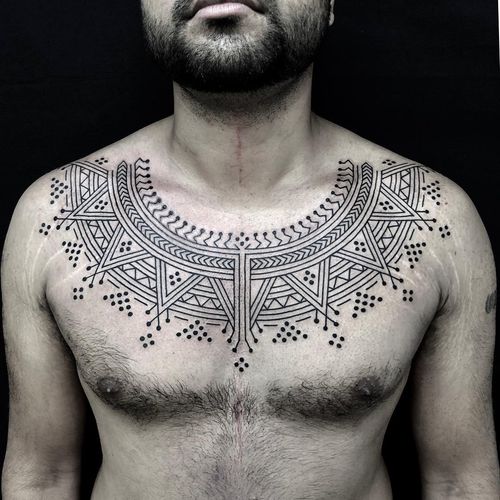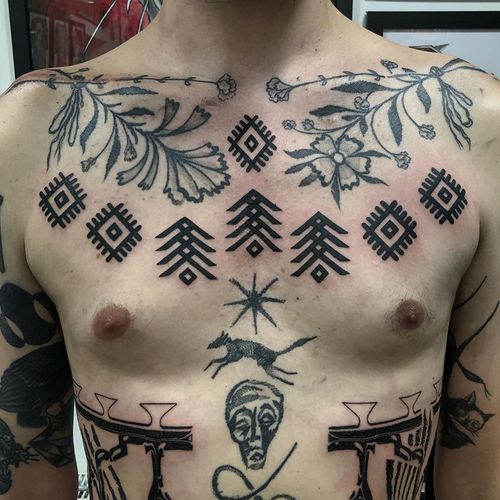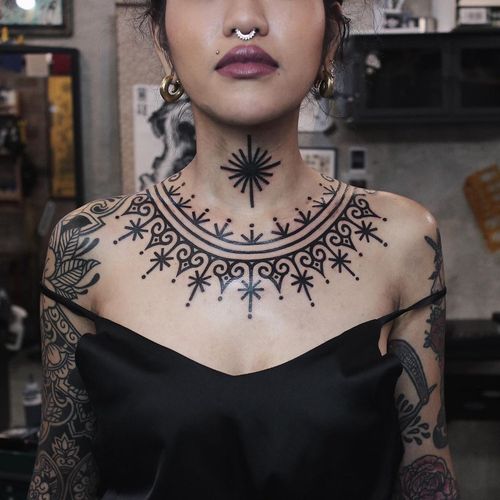 Geometric and ornamental chest tattoo
Sacred geometry and intricate designs have created some seriously cool chest tattoos over the years. Geometric and ornamental chest tattoos are actually some of the most sought after pieces because they are beautiful and work extremely well with the natural curves of the body. Whether inspired by kinetic art, or by the flourishes of art nouveau jewelry, geometric and ornamental chest tattoos are great for people who may not be particularly interested in meaning or symbolism, but want something that enhances their body organically. Many artists who concentrate on these styles may use a blend of both stencil and free hand drawing to get the perfect design for your curves. But there are literally so many different motifs, patterns and designs within this aesthetic, that you're sure to get something ultra personal and custom.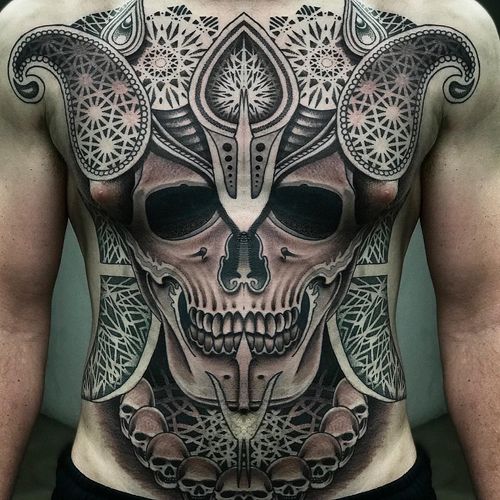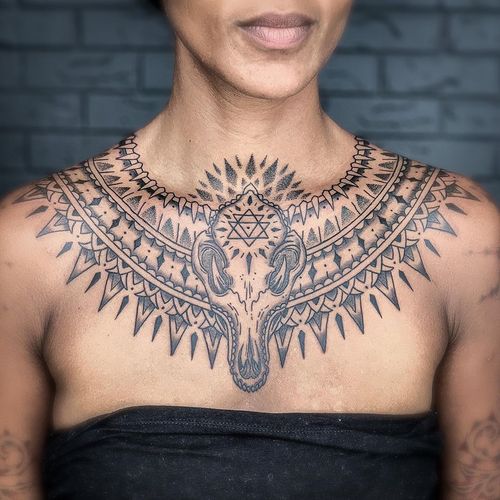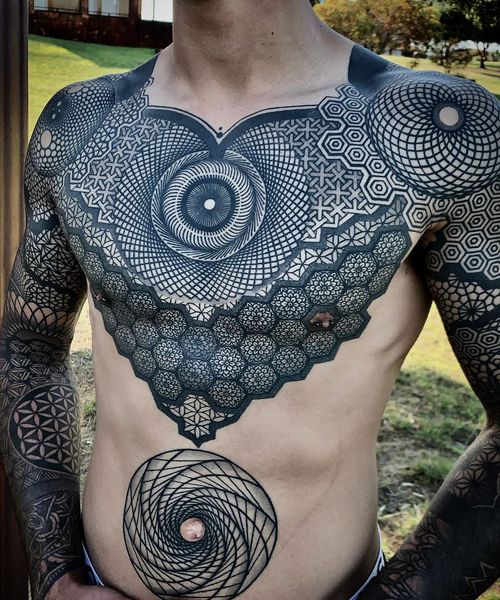 Do Chest Tattoos Hurt?
The simple answer is: yes. Yes they do. Chest tattoos hurt for a number of reasons, but mainly it's because there isn't a lot of padding between your skin and your sternum. You can usually feel many of the bones that are part of your breastbone and rib cage, which is protecting your lungs, heart, and other internal organs. Your skin is stretched pretty thing over this area, usually, so that means you'll be able to feel it pretty intensely.
Along with the nervous system's natural response to the pain of a needle going into your skin, you'll know that this won't be a simple visit to your local tattoo studio. Keep in mind that your artist will also have to apply a certain amount of pressure to make sure that the needle and ink go into your skin properly so that the beautiful chest tattoo of your dreams stays put. It certainly does hurt, but it's absolutely worth the pain. Just remember: all things in life are transient, including the physical ache of a brand new tattoo being put into its place.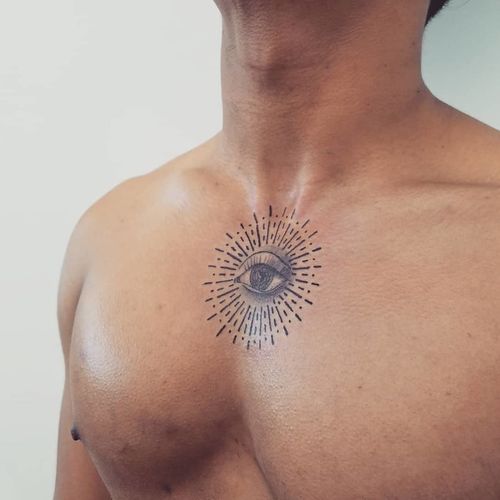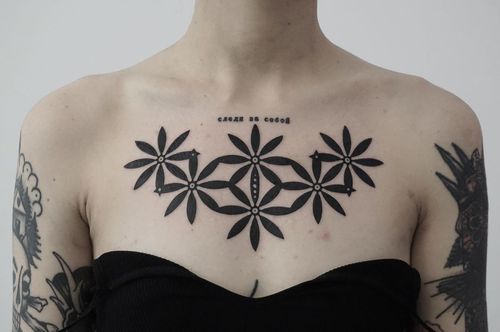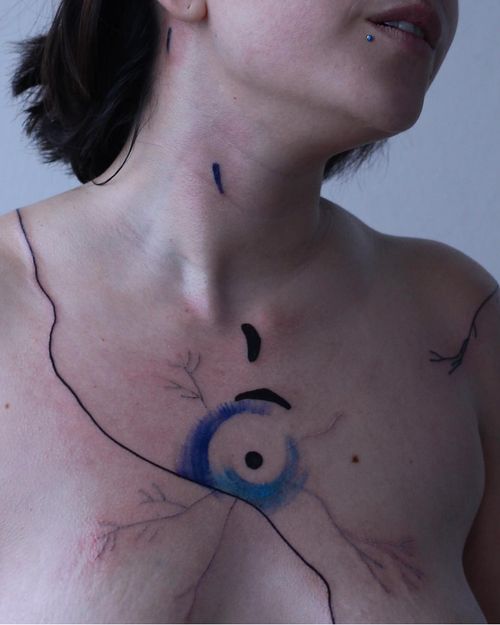 Celebrity Chest Tattoos
Oh, the wonderful world of celebrity tattoos...we know celebrity chest tattoos may, or may not, be some of the impetus behind your need for new ink, but we can promise you that as long as you're inspired by high quality tattoos and tattoo artists, we don't care what celebrity lit those burning fires of tattoo desires. Perhaps most oft quoted by lovers of lions, is Ed Sheeran's chest tattoo which is a massive color portrait of the king of the jungle. Fans freaked out about this one, as they so often do when celebs make personal decisions that shouldn't really affect anyone but themselves. And although with all that freak out about Ed Sheeran's chest tattoo came multiple theories about what it all meant, apparently it was just a memorial piece dedicated to his sold out show at the famed Wembley Stadium in London, which is also home to England's football team which, you guessed it, has an anthem entitled, "Three Lions". There's the kicker for ya.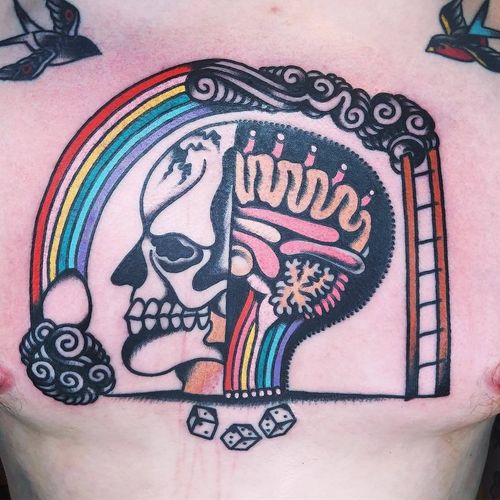 Again, always a fan of ink done well, UFC heavyweight Mark Hunt got his triple samurai skulls tattooed by realism extraordinaire Chris Mata'afa aka Chris Showstoppr. Chris's skills are incredible, and Mark Hunt's chest tattoo is a perfect example of that. The contrast on the bones, the details on the samurai helmets practically gleam with a nightmarish shadow...it's all pretty tight. Not to mention great inspiration for any other amount of cool chest tattoos...If you're all about famed fighters, then you're probably already in the know of Iron Fists chest tattoo. Marvel man Iron Fist apparently was bequeathed his infamous chest piece when he defeated the dragon Shou-Lao. Pretty mystical, but that's definitely a permanent aspect of kung fu that we can all appreciate.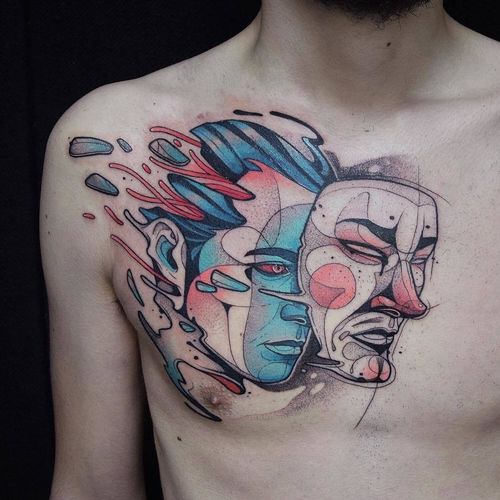 Another beefcake, J.J. Watt is known for his chest tattoo which is all about heart. A Chinese symbol meaning family and the initials of his brothers are emblazoned on his chest as part of a pec tattoo that he actually shared with his bros. Their matching ink is in sweet honor of family love. The same could really be said of Adam Levine's chest tattoos which are mostly devoted to things that the frontman has a passion for. A Traditional hand tattoo that sports its own ink, text that states "true love", holds a rose, there's some Sanskrit script that is an homage to Adam's adoration for yoga, his home state is boldly cast across his stomach and there's even a dove on his shoulder in memoriam of the attacks suffered on 9/11. That boy's chest tattoos are all about the deep down feels.
Conclusion
Chest tattoos are a big commitment not only because it takes time, money and an intense amount of skill to pull them off, but also because they're placed in such an obvious area. While tattoos aren't as permanent as everyone likes to think, getting a good chest piece requires patience...plus a great artist and a dash of creativity! When people go to a tattooist with ideas for their chest, it can be thrilling: there is a lot of space to work with and so many different aesthetics, styles, techniques, designs and more to pull it all together. We hope that this guide has given you some inspiration for your new piece, but if you're still looking for the perfect idea make sure to just look within! All your favorite things, the stuff you can't live without...that's a perfect place to start. Your chest tattoo, after all, goes right over your heart. Why not put something there that you really love?